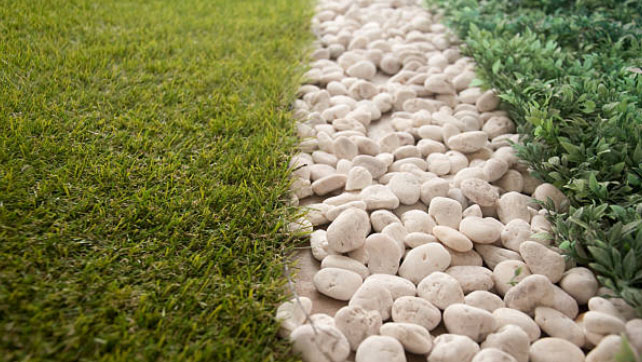 Is your yard filled with puddles? Is there an area of the lawn that never just never dries out? Does water sit near or against your foundation with nowhere to drain to? Installing an exterior French drain can help alleviate these problems in many cases. The French drain allows water to be drained away to the ideal area allowing you to maximize your usable yard space, as well as reducing mosquitos and other insects. The French drain achieves all this without large grading that can take weeks.
What is an Exterior French Drain?
First, a trench is dug that sets the correct level for water to drain off. We then line the trench with a woven plastic filter fabric that is tear resistant and will never degrade. Perforated pipe is laid in the trench and covered with stone. Next, we either cover the drain with 2-3" of dirt, or leave exposed with decorative 6-10 inch river rock. Either way, we make sure that you don't have to sacrifice aesthetics to solve your exterior water issues.