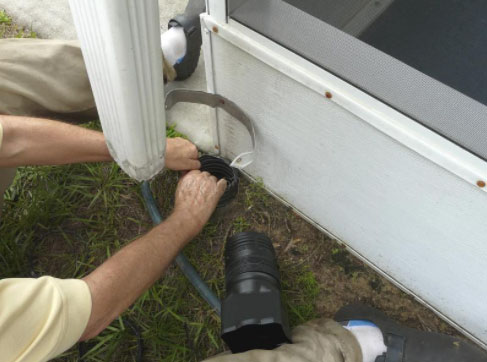 Your home's gutters and downspouts are critical for keeping water away from the foundation when it rains. If the downspout releases water above ground, it's important to have extensions that release the water a minimum of 15 feet from the house so that water doesn't flow into the foundation. But these above ground extensions are often unsightly and could present a tripping hazard.
For homeowners who deal with light to medium flooding on a yearly basis, underground downspouts are the perfect waterproofing solution. Since they are installed below the ground, they work to keep the home dry while preserving the look of the landscape. When properly installed, they work as well as any exposed downspout. The water is directed from the foundation and outlet a safe distance away.
The professional drainage installers at Main Line Waterproofing understand the engineering of underground downspouts. From insuring proper pitch to proper installation we can help you with a long term downspout solution to protect your home's foundation.
Every home and foundation is unique, and so too is each basement waterproofing solution. Call Main Line Waterproofing for a free consultation to see if underground downspouts are a good solution for your needs.